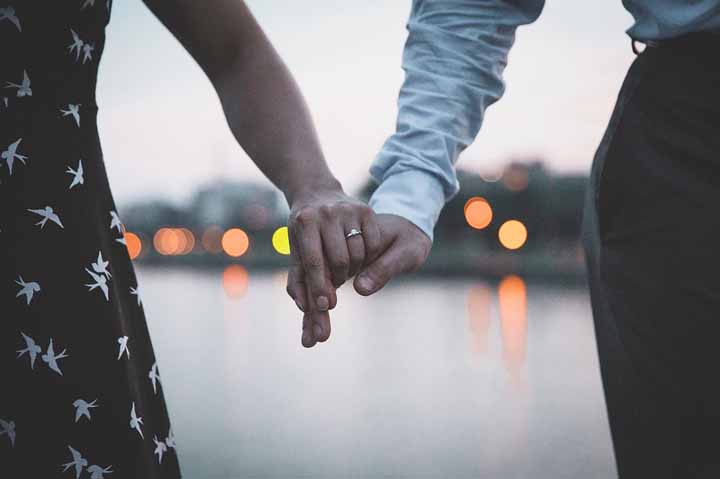 The engagement of two lovers is an exciting event, not only for the couple but also for the people around them. You might find yourself panicking about the gift when a dear one announces their engagement. But what can be a better way to express your excitement and support to the soon-to-be-weds than a few heartfelt engagement wishes? Here you'll find a rare compilation of best wishes for engagement. So go through our writings and send a congratulatory message to someone getting engaged. Along with it, send your blessings and prayers for their happy conjugal life!
Getting engaged is one of the most special moments of a person's life. These engagement quotes capture exactly how it feels when you're so in love that you want nothing more than to spend the rest of your life with a person you love. When you get engaged, your lives together become one.
Read also:
Quotes About Engagement
May your life be blessed with countless gifts of love and fondness for each other. I wish for both of you a life full of happiness and success!
You truly are a couple made in heaven. May God allow you many cherished moments of a beautiful marriage.
You guys are really made for each other. I'm very happy that you guys got engaged and going to marry soon. I wish you both a wonderful life ahead.
You both are made like the two different poles of a magnet. Naturally, you can only come closer to each other, not the opposite! Happy engagement!
You truly deserve each other, both at your best and at your worst, through the years and throughout the years. All the best wishes for you on this day!
Congratulations to a beautiful couple. What wonderful news! God bless you both on your engagement.
Wishing both of you a world of happiness and joy on this wonderful day. Congratulations on your engagement, we are so delighted for you!
"It is good to have an end to journey toward; But it is the journey that matters, in the end." — Ernest Hemingway
"There are many blanks left in the weeks of courtship, which a loving faith fills with happy assurance." — George Eliot
"We're all a little weird. And life is a little weird. And when we find someone whose weirdness is compatible with ours, we join up with them and fall into mutually satisfying weirdness and call it love—true love." — Robert Fulghum
Engagement Quotes For Instagram
"In all the world, there is no heart for me like yours. In all the world, there is no love for you like mine." — Maya Angelou
Congratulations on your wedding engagement. May your joining together bring you more joy than you can imagine. Good luck!
Simply by looking at you two, one can easily see that you both share a kind of love that is never meant to fail or fade. It's a great decision to be engaged with each other! Congratulations!
May the new life gives you countless opportunities to make memories like this one. May you come closer to each other over the years. Happy Engagement!
I'm so happy you have found love in each other. All the very best wishes for engagement with the wedding plans and have a lovely life together.
May this new chapter of life bring you every joy. My love and blessings are always with you.
As you start this new journey of life, I pray for your unending happiness. Stay blessed.
Congratulation on your engagement. You two are a lovely couple. You will be the perfect soulmate of each other. Best wishes and blessings.
Congratulations for committing to stay by each other for the rest of your life! May the coming years be filled with unimaginable happiness!
Many congratulations on tying the knot! May today be just the beginning of a happy life together. Wish you both a prosperous future ahead.
You both are so lucky that you have found each other out of millions of people in this world. What a perfect couple you are! Congratulations!
Engagement Quotes For Him
"We loved with a love that was more than a love." — Edgar Allan Poe
"Love doesn't make the world go 'round. Love is what makes the ride worthwhile." — Franklin P. Jones
I wish an everlasting bond between you two on this very special occasion. May you be happy every day of your life. Happy engagement.
Happy engagement to the loveliest couple in the world! May you stay in love with each other!
Happy engagement to both of you. May this wonderful day be the beginning of your never-ending journey full of love, dedication, and romance!
Cherish all the happiness around as today is the most special day for you both. Today is the day you two will be one! Congratulations!
I wish for you that this gleeful occasion adds a new meaning to both of your life. May you be swept away by unbounded happiness and romance!
"To love and to be loved is to feel the sun from both sides." — David Viscott
"I wish you to know that you have been the last dream of my soul." —Charles Dickens
"Wherever you are my home, my only home." — Jane Eyre
"Many people spend more time in planning the wedding than they do in planning the marriage." — Zig Ziglar
"And I'd choose you; in a hundred lifetimes, in a hundred worlds, in any version of reality, I'd find you and I'd choose you." —Kiersten White
Congratulations on your engagement! Wishing that this be just the start of a long and wonderful journey.
My warm wishes to both of you on this special day. Happy wishes on your engagement and a beautiful life ahead!
Watching you get engaged to the man you love is bringing me tears of joy. Congratulations dear!
You've always been a good brother, and I know you're going to be a good husband too. I wish you a happy conjugal life.
You deserve all the beautiful things that life has to offer. May you both find your dreams together and fulfill your desires together!
Engagement Quotes For Her
Congratulations to the perfect couple! Your love has reached new heights. May your future be a bright and happy one.
I congratulate you both for your love and togetherness and wish you peaceful and wonderful times ahead in life. Congratulations on your engagement.
"The secret of a happy marriage remains… a secret." — Henny Youngman
"Engagement marks the end of a whirlwind romance and beginning of an eternal love story." — Rajeev Ranjan
"I couldn't have dreamed you into existence because I didn't even know I needed you. You must have been sent to me." — Kamand Kojouri
"True love stories never have endings." — Richard Bach
"Chains do not hold a marriage together. It is threaded, hundreds of tiny threads which sew people together through the years." — Simone Signoret
Begin the journey of being bonded together forever, with a broad smile on your face and by holding each other's hands tightly! My best wishes are with you!
May this spiritual communion of two hearts bring endless miracles in your life. May you never be apart from each other. Congratulations!
Make promises of being together both during odds and happiness, as today is a special day for your two souls to get bonded together. Congratulations to you both!
I hope you always find peace in each other. My prayers and blessings are with you.
Grab onto the bond of love that will form today tightly forever, so that love can conquer all odds of your marriage life. Blessings are all I have to give you on this special day.
Sending best wishes on your engagement! May your love for each other keep growing.
You two are what soul-mates look like. I wish you a lifetime of romance and happiness.
On this day of your engagement, accept each other's flaws along with accepting each other's perfections. Wishing you the best of luck.
Engagement Quotes For Friend
I wish you both your love and togetherness and wish you peaceful and wonderful times ahead in life. May God bless both of you with warmth and care.
What a joyful announcement! You make a wonderful couple. May the two of you be blessed as you begin the journey that will lead to a lifetime together.
Wishing you all the joy that your heart can hold and may this be the new beginning of a long life together. Tons of good wishes on your engagement!
Congratulations to the future bride and groom! May your love grow for each other every day!
I wish you all the success, happiness, and everlasting love of your dreams. Congratulations on the engagement!
"When you realize you want to spend the rest of your life with somebody, you want the rest of your life to start as soon as possible." — Nora Ephron
"Grow old with me! The best is yet to be." — Robert Browning
"The highest happiness on earth is marriage." — William Lyon Phelps
You both look so complete with each other. It seems like your match was made in heaven. Happy engagement to both of you.
It's just the beginning of your 'happy ever after love story. Many more blissful memories are yet to be made. Congratulations!
What a perfect time to look into each other's eyes and decide to grow old together for the rest of life. You both are among the blessed souls. Congratulations!
It's been a real pleasure to be an acquaintance of two beautiful souls who are deeply in love with each other. Happy engagement!