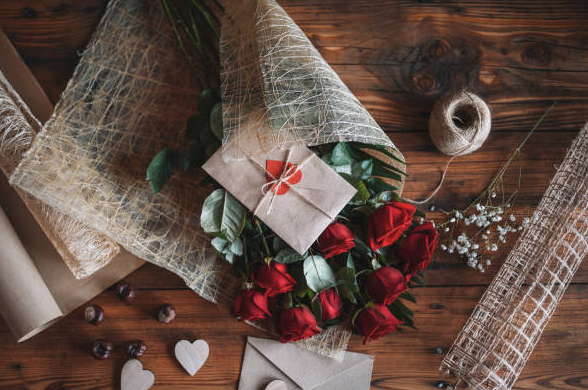 In the realm of gift-giving, few gestures are as powerful as those that ignite the flames of passion and romance. The art of choosing a gift that not only pleases the eye but also touches the heart requires a deep understanding of your partner's desires and emotions. Whether it's for a special occasion like an anniversary, Valentine's Day, or simply a spontaneous declaration of love, selecting a gift that stirs the senses and evokes emotions can strengthen the bond between you and your beloved.
A Symphony of Sensual Fragrances
One of the most captivating ways to spark passion in her heart is through the art of fragrance. Perfumes and scented candles can transport her to a world of luxury and sensuality. Choose a signature scent that embodies her essence and personality, and let her know that her presence leaves an indelible mark on your senses.
Personalized Keepsakes
A truly romantic gift is one that resonates with shared memories and experiences. Personalized gifts, such as a custom-made photo album, a scrapbook of your journey together, or a star map representing a significant date in your relationship, can evoke a sense of nostalgia and intimacy that transcends the material value of the gift itself.
Culinary Adventures for Two
They say the way to the heart is through the stomach, and a romantic, candlelit dinner can indeed set the stage for an unforgettable evening. Consider gifting her a cooking class for both of you to explore new culinary horizons together, or create an at-home gourmet experience with a basket of her favorite delicacies, paired with a fine bottle of wine.
Adventures and Escapes
Sometimes, the most romantic gifts are experiences that create lasting memories. Plan a surprise getaway to a charming bed and breakfast, a cozy cabin in the woods, or a weekend in a bustling city. Escaping the routine of daily life together allows you both to reconnect and kindle the flames of passion anew.
Couple's Spa Day:
Elevate relaxation to a new level by treating her to an indulgent couple's spa day. With luxurious massages, rejuvenating facials, and therapeutic treatments, this experience promises not only physical rejuvenation but also a deeper emotional connection as you unwind together in a tranquil sanctuary.
Vintage Love Poems Book:
Immerse yourselves in the timeless allure of love poetry with a carefully curated collection of vintage verses. The words of poets from eras gone by serve as a reminder that love's essence remains unchanged across time. Sharing these poetic expressions deepens your appreciation for the enduring power of love. These love poems are indeed the best gifts for girlfriend that will make her go wow.
His and Hers Matching Watches:
Celebrate your shared journey through time with the elegance of matching watches. These timepieces not only adorn your wrists but also serve as tokens of your synchronous moments and shared aspirations. Every glance at the watch reminds you both that you're moving through life's chapters hand in hand.
Romantic Getaway Journal:
Encourage her to capture the magic of your getaways with a dedicated romantic getaway journal. The pages of this journal become a treasure trove of memories, holding snapshots of your travels, heartfelt reflections, and moments of connection that define your romantic escapes.
Message in a Bottle:
Channel the allure of mystery and romanticism by crafting a heartfelt letter and placing it within a delicately adorned bottle. This poignant gesture resonates with a sense of discovery, as your words, carried by the currents of fate, reach her heart.
Custom Couple Portrait:
Celebrate your unique love story with a custom couple portrait crafted by an artist. Every brushstroke captures your essence, immortalizing the connection and emotions that bind you. This artistic representation becomes a visual ode to your relationship.
Eternal Rose:
Present her with an eternal rose, a preserved bloom that symbolizes your enduring and unwavering love. Unlike fleeting flowers, this forever-blossomed token becomes a lasting testament to your commitment and passion.
Scented Bath Set:
Invite her to indulge in a luxurious spa experience at home with a scented bath set. Immerse herself in fragrant bubbles, essential oils, and plush towels. This gift offers not only relaxation but also an invitation for shared moments of tranquility.
Bespoke Love Jewelry:
Commission a bespoke piece of jewelry that encapsulates your unique journey. Incorporate elements like meaningful dates, initials, or symbols that resonate with your relationship, turning the piece into a wearable narrative of your love.
Private Concert Experience
Gift her a private concert experience featuring a musician or band she adores. Whether in an intimate setting or the comfort of your own home, the music becomes a backdrop for the emotions you share, creating a harmonious symphony of connection.
Intimate Candlelit Dinner
Set the stage for a romantic evening with an intimate candlelit dinner, thoughtfully prepared by you. Every element, from the meticulously arranged table to the culinary delights you've created, speaks of your devotion and desire to make her feel cherished.
Conclusion
Captivating and romantic gifts have the power to stir the deepest emotions and create lasting bonds between partners. The act of selecting a gift that speaks to her heart showcases your understanding, love, and commitment. Whether it's a fragrant perfume that lingers in the air, a piece of jewelry that sparkles like your love, or an intimate experience that creates cherished memories, the journey of finding the perfect romantic gift is an expression of the passion you share.