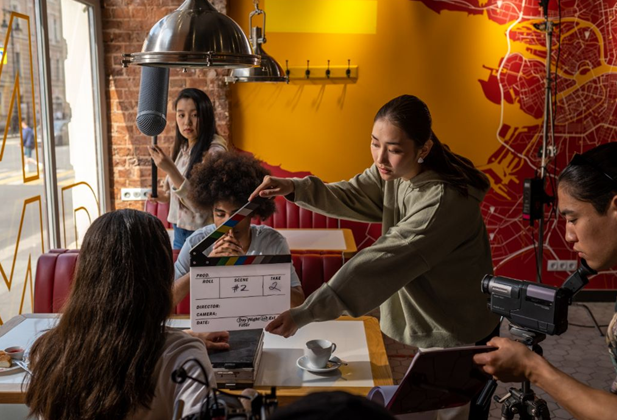 The film industry saw a significant change with the early use of social media. People began noticing and discussing these changes in fan forums, filmmaker blogs, and other online communities. Key moments like the movie marketing for "The Blair Witch Project" in 1999 and "The Dark Knight" ARG (Alternate Reality Game) showed how robust fan engagement and viral marketing can be.
Social media has innovated how we communicate, share, and consume content. This article discusses the dynamic relationship between social media and the filmmaking industry. We'll explore its historical evolution, how it influences film creation, its role in film promotion, and the challenges and ethical considerations it raises. Finally, we'll peer into the future to see how social networks will continue to shape the film industry.
Social Media's Influence on Film Creation
1. Crowdsourcing and Viewer Captivation
The impact of social media on film creation is undeniable, with crowdfunding platforms like Kickstarter leading the charge. These platforms have changed film financing, providing independent filmmakers a unique avenue to fund their projects. By directly interacting with their viewers, filmmakers secure financial support and build a dedicated community of backers who are emotionally invested in the project's success.
Beyond funding, social media allows for unprecedented fan involvement in decision-making. From casting choices to crucial plot twists, creators now seek input from their followers. This collaborative approach strengthens the bond between creators and fans and generates a feeling of ownership and anticipation among the viewers.
2. Real-time Feedback and Testing
Social media's real-time nature has transformed how films are tested and refined before their official release. Filmmakers now conduct pre-release screenings and leverage social media platforms to generate instant buzz. Viewers share their thoughts and reactions, providing valuable insights that can shape the final product.
This iterative filmmaking process, driven by viewers' input, ensures that films correlate with their intended viewers. Directors and producers no longer need to rely solely on internal feedback; they have a direct line to those who will ultimately watch and critique their work.
3. Collaboration and Networking
Social media platforms are powerful tools for talent discovery and networking within the film industry. Finding the right talent and crew members for a project has always been challenging. Filmmakers can browse through profiles, portfolios, and reels on platforms like LinkedIn, Instagram, and YouTube, making connections that were once limited to industry events and referrals.
Moreover, the democratization of content creation through crowdsourcing extends beyond financing. Collaborative content creation, driven by social media, allows filmmakers to tap into the collective creativity of their viewers. Whether sourcing user-generated content or soliciting ideas for viral marketing campaigns, social media provides a fertile ground for expanding the industry's creativity boundaries.
4. Enhancing Diversity and Inclusivity
Social media has been essential in promoting diversity and inclusivity in the film industry. It has provided a platform for underrepresented voices to be heard and stories to be told. Through hashtags, movements, and viral campaigns, social media has brought attention to issues of representation and equity in the film world.
Filmmakers increasingly use social media to cast a wider net when seeking talent and crew members, resulting in more diverse and inclusive productions. Additionally, social media activism has pressured studios and organizations to address these concerns, leading to more inclusive storytelling and hiring practices in the industry.
5. Fostering Niche Communities and Subcultures
Social media has enabled the rise of niche communities and subcultures within the film world. Platforms like Twitter, Reddit, and Instagram allow fans of specific genres, franchises, or cinematic movements to come together and share their passion. It has led to the revival and celebration of cult classics, niche genres, and overlooked filmmakers.
These online communities serve as hubs for discussion and fan engagement and provide valuable feedback to creators. Filmmakers can tap into these passionate subcultures to gauge interest in their projects, gather ideas, and find potential collaborators who share their vision.
Marketing and Promotion
1. Social Media as a Promotional Tool
The diverse array of multimedia tools, like generative AI and professional audio editor software on social media platforms, enables filmmakers to enhance their storytelling capabilities. From short video clips, AI avatar videos, and live streaming to interactive storytelling via polls and quizzes, these features offer innovative ways to connect with followers.
Leveraging the influence of social media personalities and influencers has also become a common strategy. These individuals lend authenticity and reach to a film's marketing campaign. Influencers bridge the gap between creators and their fans, from exclusive behind-the-scenes content to sneak peeks.
2. Viewer Segmentation and Focusing
Filmmakers now have access to various demographic and behavioral data about their fans. They can customize their marketing strategies to match different platforms and viewers segments.
Personalization is the key to success in this era of digital marketing. Whether crafting targeted ads on Facebook or curating specialized content for Instagram, filmmakers use data to ensure their message echoes with each segment of their followers. It boosts engagement and cultivates loyalty among viewers who feel the content speaks directly to their interests.
3. Building Brand and Fandom
The enduring relationships formed on social media are invaluable for building a film's brand and cultivating a devoted fan base. Filmmakers recognize that social media is more than just promoting a single project and nurturing long-term engagement.
To this end, filmmakers employ various strategies to maintain a constant presence on social platforms. Regular updates, interactive content, and exclusive sneak peeks are just a few tactics to keep fans engaged between releases. This ongoing interaction strengthens the connection between creators and followers, transforming casual viewers into dedicated fans.
4. Harnessing User-Generated Content
Social media has empowered fans to become content creators themselves. Filmmakers increasingly encourage user-generated content, which amplifies the reach of promotional efforts. Using a built-in social media editor or an online video editor, fans can easily use a platform built-in editor or an online video editor to create fan art, fan theories, and even fan-made trailers, all contributing to the film's online presence.
User-generated content extends the film's promotional reach and deepens fan interaction. Sharing and celebrating fan contributions cultivates a feeling of ownership and collaboration within the fan base. It's a mutual relationship where fans actively participate in the film's promotion.
5. Interactive Campaigns and Challenges
Beyond traditional marketing, social media enables filmmakers to create interactive campaigns and challenges that go viral. Hashtag challenges, quizzes, and contests engage the viewers in a fun and participatory way. These initiatives encourage fans to share their experiences and creativity with the film's branding.
Such campaigns generate buzz and provide valuable user-generated content for promotion. They create a sense of community among fans and offer an opportunity for filmmakers to reward their most dedicated supporters.
The Future of Social Media in Film
The future holds exciting possibilities. VR/AR experiences integrated with social media will create immersive film experiences. AI-driven content creation and recommendation systems will revolutionize film distribution and consumption.
Social media's influence will extend to film distribution and exhibition, challenging traditional models. Film festivals and awards may evolve to include social media components, democratizing access and recognition.
Takeaways
The symbiotic relationship between social media and film is here to stay. Social media has transformed how films are created and marketed, from crowdfunding indie gems to building global franchises. The future promises even greater innovation and impact as we navigate the challenges of privacy, misinformation, and online backlash.
Filmmakers, studios, and fans alike must adapt to this digital era. The enduring connection between social media and film continues to shape our cinematic experiences, ensuring the story is on-screen and in the digital conversations surrounding it.