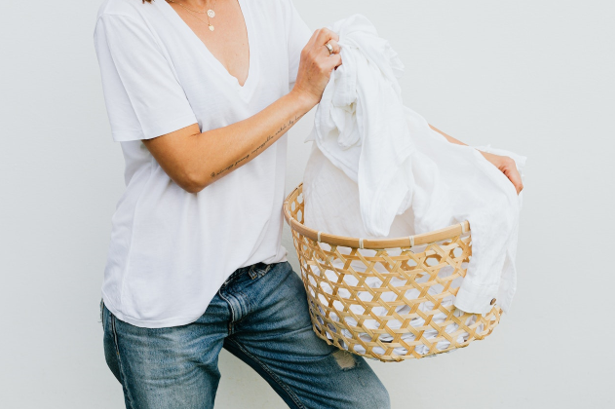 Laundry isn't a chore that you can skip for the sake of your budget — at least, not for long. You need to wash your clothes! So, are there ways that you can tackle this essential chore and save a little bit of money? Of course.
Wash Clothes During Off-Peak Hours
Did you know that there are certain times when electricity is cheaper? These are called off-peak hours. If you can manage to do your laundry during these off-peak hours, you should.
Wash on Cold
Start washing most of your clothes in cold water, not warm or hot water. Cold water cycles use up less energy and they can help clothing stay in top condition. You don't have to worry about problems like shrinkage or fading colors.
Use warm and hot water cycles sparingly for white clothing or heavy-duty items like towels and bedding.
Air Dry
In the summer months, use your dryer less. Take advantage of the warm, sunny weather, and air dry your clothes. Hang your clothes up to dry on a clothesline. If you want to dry clothes indoors, you can place them on a foldable drying rack or get an indoor retractable clothesline. This will be ideal for any undergarments that you want to air-dry away from the prying eyes of your neighbors.
Air drying is not just savvy when it comes to energy use. It's also savvy when it comes to your clothes. Clothes fare better with air drying. They will last longer — which means fewer repairs or replacements.
Read Laundry Tags
Before you throw a new item in the wash, check the laundry tag. Follow the instructions if you want to keep the garment in good condition and avoid a situation where it falls apart. Otherwise, you'll be wasting your money. If you can't tell what the symbols mean, you can look up this chart of laundry symbols.
Prep Clothes for the Wash
Before you add your pile of clothes to the washing machine, prep the items. How?
Zip up zippers so that they don't snag on anything.
Unbutton buttons. They can break off if they remain buttoned up.
Empty pockets so that you don't have items like balled-up tissue, gum or pens running through the wash.
Put socks and more delicate items in a mesh laundry bag.
Separate the clothing into color categories. You don't want a red sock to sneak its way into the pile of whites and turn all of your garments pink.
Clean the Lint Trap
Every time that you use the dryer, empty the lint trap. The cleaner the filter, the more effective your dryer will be and the less energy it will use up.
If you use dryer sheets or fabric softeners regularly, you should also wash your lint trap every once in a while. Dryer sheets and fabric softeners can emit chemical residue that will slowly clog up the lint trap. So, gently wash it with dish soap and warm water to rinse everything out.
Your dryer exhaust vent will also need clearing. The dryer exhaust vent is an often-forgotten part of the house that you need to investigate as soon as possible. If it goes unchecked for too long, it could become a serious fire hazard.
Clean the Washer
In the best-case scenario, not cleaning your washing machine will just make it smell bad. There will be bacteria build-up which will get all over your clothes. At worst, the build-up in the machine could clog up and make components break down faster than they should. You might have to pay for replacement parts or a new appliance altogether if you're not careful.
Washing machines should last at least 10 years before you get a replacement. You don't want to need an emergency replacement before that time is up. That's an expense that could put a big dent in your budget — more so than high energy bills.
If you're ever in a position where an appliance breaks down, and you don't have enough savings to cover a repair or replacement, don't panic. Online loans are one of the quick and easy options you could turn to in this circumstance. As long as you meet the requirements, you could apply for the loan and wait to see whether you get approved for it. With an approved loan, you could gain access to temporary funds to handle this emergency as soon as possible. Afterward, you would need to follow a repayment plan.
Online loans should only be used for emergency expenses. They're not meant for routine expenses, like your energy bills.
These simple laundry tips could help you save a load of money. Follow them the next time you have to empty out your laundry hamper.