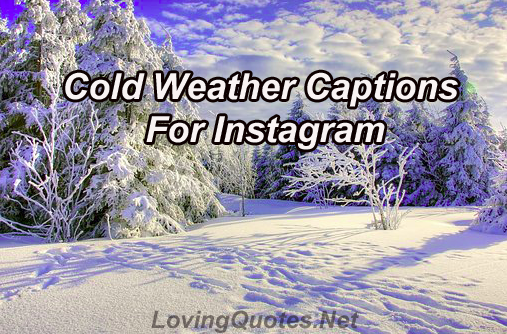 There's nothing better than winter weather. The collection includes all of your favorite activities like ice skating, skiing, and fashion for the cold weather. An enchanting season filled with snow cannot be topped. The icy elements will tempt you to stay out there all day. Even if you're shivering under all your layers, the glittering snow in the sunlight is all you need to appreciate the beauty of the colder months.
Now you have taken the perfect winter photo, perhaps even a sledding adventure — but you're not done. The next step is to craft a clever caption for your winter Instagram pic. As long as your caption is adorable, then your Instagram feed is just as charming as that snap of you with a pom-pom hat on a sled. You won't be able to resist taking shots of all the fun things you're doing in the snow with these winter Instagram captions.
Read Also:
Winter Captions for Instagram
You don't have to hibernate this winter.
Eat, drink, and be cozy.
Walking in a winter wonderland.
"Prepare & Prevent Instead Of Repair & Repent."
Paradise doesn't have to be tropical.
Baby, it's cold outside.
The powder is falling. The mountains are calling.
Winter is coming…
Let's make it a winter to remember.
I'm the ultimate snow angel.
"Watch Your Step – It Could Be Your Last"
"Open The Door To Safety: Awareness Is The Key!"
Let me melt your heart.
Snow days are the best days.
Be like snow: beautiful but cold
Eat, drink, and be cozy
Happiness is first tracks on fresh snow.
"You are my summer breeze, my winter sun." — Britney Spears
"Some people are worth melting for." — Frozen
Stay Cozy
Imagine fairy lights on winter nights.
I shine like sunlight on snow.
Funny Winter Instagram Captions
"There's snow place like home." – Unknown
"What do snowmen wear on their heads? Ice caps." – Unknown
"Every day I'm shovelin'." – Unknown
"It's colder than my soul out here." – Unknown
"Snow happy" – Unknown
"Snow darn cold." – Unknown
Don't mind me, I'm just counting down the days until summer.
I'm best in snow.
"Snow laughing matter" – Unknown
"Snow matter what…" – Unknown
Feeling blessed and sweater-obsessed
Count snowflakes, not sheep.
"I love you snow much." – Unknown
"Snow much fun!" – Unknown
"Love at frost sight." – Unknown
"Some people are worth melting for." – Frozen
"Snow way out." – Unknown
"Ice to meet you." – Unknown
I see snow… so, where's Elsa?
"Hipster ice: I was water before it got cool." – Unknown
"How does a Snowman get to work? By icicle." – Unknown
"One step closer to summer." —Unknown