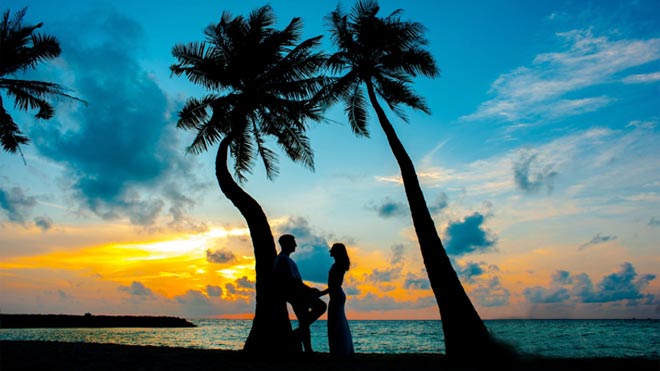 This is your dear friend's wedding anniversary and you wish him some special words. Every year, wedding anniversaries are a special day. It brings them a lot of joy and memories, so this day is spent in the presence of family and friends.
A lot of the married couple's friends and relatives with them and share their moments with them. They present gifts so as make the wedding memorable and wonderful.
Wedding anniversary wishes are the most important part of this event. Everyone wants to send their best wishes to married couples. It is generally difficult to say some heart-touching line to someone on this occasion.
Read Also: 
So here we are presenting the special wishes collection for your friend's wedding anniversary celebrations. Hope you would really love it.
Wedding Anniversary Wishes For Friend
Wishing you a long and wonderful life together on this grand occasion. Kudos!

Happy Wedding Anniversary My Dear Friend.
Your Anniversary Day is one to always treasure. Enjoy!
Love makes the world go round, and in your case, it seems to be spinning at a good clip. Best wishes.
Another year of marriage bliss? No surprise here. You two deserve the happiness you each bring to the union.
Time flies when you have your best friend and the love of your life on your side.
You're two of a kind: people I love! Happy Anniversary to the perfect pair!
Sending you our warmest wishes on this glorious occasion.
The three keys to a lasting marriage are respect, communication and love.
More love. More joy and more happiness. These things I wish for you on this special day.
Happy Anniversary to two love birds. Cheers!
All our love and best wishes. Three cheers!
Love begins in a moment, grows over time, and lasts for eternity. Happy Anniversary Wishes!
It doesn't matter where you go in life, what you do, it's who you have beside you. Well done.
Marriage Anniversary Wishes For Friend
It takes a second to fall in love, but a lifetime to prove its worth. Make it last!

Happy Wedding Anniversary My Dear Friend. 
Make lasting memories. Happy Anniversary Wishes.
All the best to the best couple we know.
Congratulations on twenty-five years of living and loving, of family and friends, of hopes and dreams, of moments and memories. Well done!
The perfect pair proved to be a perfect pairing.
In life's adventure, may happiness be your destination? Cheers!
May the freshness of your love always remain. Congrats!
May your love flourish with each passing year.
Our marriage anniversary means the world to me.
Many blessings to you. Congrats!
Flowers are like a marriage. Cut them, and they'll languish. Nourish them, and they'll flourish.
May God give you blessings and love in abundance.
Celebrating X years together. I love you more than ever.
Count your anniversaries not by years alone, but by the great memories and happy times you've known.
Celebrate Your X Anniversary. Many years of happiness together and watching dreams come true.
Happy Wedding Anniversary Love!
Like a fine wine, the years just seem to make the two of you better. Happy Anniversary!
Wish you might wish you may have a sweet romantic day made of moments meant for two, filled with love that feels brand-new.
Anniversary Wishes For Friend In English
Wishing you both another year of happy smiles, romantic moments, and memories that make your hearts sing.
Your anniversary began with a promise. May that promise continue to strengthen with each passing year.
Thinking of you both. Wishing you all happiness as you celebrate the joys your marriage has brought.
Couldn't think of a more fun couple. Have a great day. Love you!
Happy Anniversary Sweetheart.
For a Special Couple. May your anniversary be a time to celebrate all the happiness love has brought and all the joy that still lies ahead. Wishing you happiness always.
Much happiness weddings are to be remembered and cherished.
You two lovebirds have grown closer together yet another year. Congrats and Happy Wedding Anniversary!
With love to a special couple whose happiness together warms the hearts of everyone around them. Congratulations.